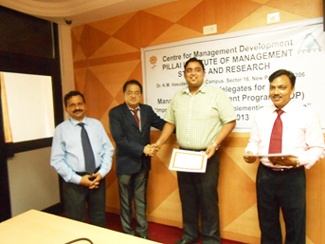 Centre for Management Development, Pillai Institute of Management Studies and Research organized a two day MDP on the topic "Improving Performance by implementing Six Sigma" for corporate executives on 8th – 9th May, 2013 at Conclave, Dr. K. M. Vasudevan Pillai Campus, Sector 16, New Panvel – 410206.
The MDP was conducted by Prof. C. K. Sreedharan, an eminent trainer and faculty at Pillai Institute of Management Studies and Research. The program was attended by many executives from the corporate sector across diverse industries including Manufacturing, Textiles, Hotels and Chemical. Reliance Industries Ltd., Patalganga, Hindalco Industries Ltd., Taloja, Dicitex Furnishing Ltd., Tarapur and Regenza by Tunga, Vashi were among the companies participated in the MDP.
About Six Sigma

In today's world of globalization, every organization big or small, is facing immense competition and the customers are also becoming more and more demanding. Only those organizations which are efficient, customer centric and cost conscious can effectively beat the competition, survive and grow profitably.
Six Sigma is a powerful approach to improving processes to do things better, faster, and at lower cost. It can be applied to every facet of business, from production, to human resources, to order entry, to technical support. Six Sigma is valuable because it creates an environment for improving productivity and efficiency in a business environment of continuous improvement. It gives everyone an opportunity to make improvements to traditional processes. It creates a disciplined, knowledge-based approach designed to enhance customer satisfaction and build a customer culture that embraces innovative approaches to technology and business development. Overall, it is a highly structured strategy for acquiring, assessing and applying customer expectations with manageable solutions for the purposes of product, system or enterprise innovation and design.
The Six Sigma philosophy addresses the following:
What is critical to your customers?
How well are you performing today?
How can you leverage facts and data?
How can you sustain improvement?
Objectives
This program aims at achieving the following objectives:
Help the participants to understand and use the best and tested management techniques and tools for bringing business / process improvements in their organizations.
Help the participants achieve excellence, reduce waste, decrease defects and enhance productivity.
Make the participants use a structured method to reduce cycle times, improve quality and delivery processes.
Contents
Importance of Six Sigma
Statistical concept behind Six Sigma
Lean techniques- Kaizen, Poka Yoke, 5S, PDCA cycle
Importance of determination of Critical To Quality (CTQ)
Define, Measure, Analyze, Improve and Control phase in Six Sigma.
How to implement Six Sigma in an organization – A step by step approach
Pedagogy
The course is developed based on the Green Belt and Black Belt Certification programs offered worldwide. Program will be delivered through power point presentation, case study, class room exercises and discussions.
Who should attend?
This program will be suitable to middle level personnel from any function of an organization.
Trainer


Mr. Akshay Khanna
An alumni of IMC Chandigarh, Mr. Khanna holds Master's degree in Hotel and Tourism Management from Institut Vatel, Nîmes, France.
Mr. Khanna has work experience with one of the world's best restaurant – Hotel Auberge Du Pere Bise (Michelin star), France, luxury collection hotels of ITC group and Orchid Hotel, Mumbai.
Currently Mr. Khanna is working as the Training Manager with The Orchid – Asia's 01st ECOTEL hotel. He has over 10 years of experience in hotels. His areas of expertise include Training and Mentoring, Change Management (LEAN Six Sigma Black Belt), Analytics and Hotel Operations. He has proven ability to 'Effectively' drive change, mentor and train associates across varied levels. He has proven leadership abilities in hotel operations with a 'hands-on' approach to enhance operational excellence.
He has mentored Six Sigma and LEAN projects across various verticals in ITC hotels to drive results in 3 major areas – R1, R2 and R3, i.e. Revenue, Guest Feedback Scores and Cost Rationalization. Various projects led or mentored by him have become the 'Standard Operating Procedures' across the ITC hotels. He mentored ITC The Maratha (A Luxury Collection hotel) to top the 'Kaizen' score in the ITC Hotels, for 2 consecutive years.
He has trained Associates, Executives and Managers on multiple training topics such as 'Six Sigma', 'LEAN', 'Kaizen', 'Soft Skills', 'Service Excellence', 'Time Management', 'Brand Management', 'Mystery Audits', 'Leadership Grid', to name a few. He also provides tactical training support to the other hotel brands under Kamat Hotels (I) Ltd. umbrella like VITS, Lotus Resort and Fort Jadhavgarh. He also helped his restaurant win the 'TIMES FOOD GUIDE AWARD' for Best Chinese Restaurant.

Prof. C. K. Sreedharan
A mechanical engineer and an MBA, Prof. Sreedharan is a trained implementer of Six Sigma, a certified lead auditor for ISO: 9001-2008, ISO: 14001-2004 and OHSAS: 18001-2007 and an accredited energy auditor from Bureau of Energy Efficiency.
With over 25 years of varied industrial experience and 5 years of teaching and training experience, Prof. C. K. Sreedharan has worked in Bureau of Indian Standards as Deputy Director and as General Manager (Works) in Expo Gas Containers Ltd. He was a panel auditor for Det Norske Veritas (DNV) where he conducted more than 250 third party audits on various management systems.
Prof. C. K. Sreedharan has assisted several organizations in the implementation of Six Sigma Projects, Quality / Environmental / Occupational Health and Safety Management Systems and Total Quality Management and has conducted several training programs in the areas mentioned above.
Participation Details
Program – This management development program is non-residential. The program timings are from 10.00 a.m. to 05.00 p.m. on both the days.
Fees – The fees for the program is Rs. 2,500/- (Two Thousand Five Hundred only) per participant. The non-refundable fees include morning / evening tea / coffee / lunch on both the days as well as training material and folder.
Certificate – All registered participants shall receive certificate of training issued by Pillai Institute of Management Studies and Research.
Venue – Pillai Institute of Management Studies and Research, Dr. K. M. Vasudevan Pillai Campus, New Panvel – 410 206
Transport – The participants would need to make their own transport arrangements. The venue is just at about 1 k.m. distance from east side of New Panvel railway station and can be reached easily on foot or by an auto rickshaw in minimum fare.
Contact: Prof. Mukesh Goyal
Head – Centre for Management Development
Pillai Institute of Management Studies and Research
Dr. K. M. Vasudevan Pillai Campus, Sector-16, New Panvel – 410 206
Telephone: 2745 6100 / 2745 1700 Ext. 221
Mobile: 9920 899 198, E-mail: mukeshgoyal@mes.ac.in